FTC Disclosure:  If you make a purchase via a link on this site, We may receive a small commission on the transaction - at no added cost to you. Thank you!
Tranquility Lodge.....

                             a birding adventure
Tranquility Lodge is situated in a peaceful, secluded setting on 20 acres of lush tropical gardens and jungle.
The Bed and Breakfast, owned by Shiela and Rusty Nale, is located a mere 7 miles from the Punta Gorda area and the Mayan Ruins.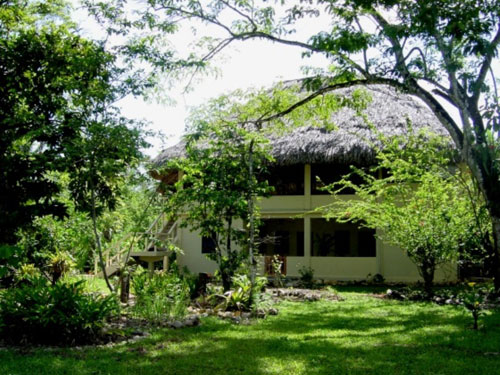 This Lodge is a hummingbird lovers paradise.
In fact, Sheila and Rusty believe that "a little bird", the Long-tailed Hermit Hummingbird told them to purchase the lodge.
The first time they came, this hummingbird visited the thatched dining room.
They feel it was their sign to purchase and manage the property.
Here you can experience the true meaning of responsible adventure travel with the comforts of home.
Complete with ceiling fans and en suite bathrooms with hot water showers, the newly decorated deluxe rooms and thatched Maya casitas are eco-friendly.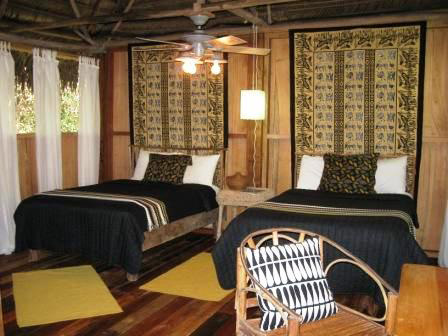 You'll love the food! Sheila prepares local, fresh gourmet meals in the full service dining room.
Birdwatch in the gardens and on the trails. Over 200 species of birds are listed on the property.
Among the hummingbirds are the White-bellied Emerald, Azure-crowned Hummingbird, Blue-tailed Hummingbird, Cinnamon hummingbird, Rufous-tailed Hummingbird, Buff-bellied Hummingbird, Green Breasted Hummingbird, Ruby-throated hummingbird, Wedge-tailed Sabrewing, Violet Sabrewing, Brown Violet Ear Hummingbird and Strip Tailed Hummingbird..... (Learn more about species of hummingbirds)
When you aren't birdwatching, relaxing in the gorgeous surroundings, eating fabulous cuisine, you might enjoy a walk along the private path leading to the river. Take the trail to the creek and swim in their idyllic natural pool.

Your vacation can also include exploring the Mayan Ruins, taking a jungle trek, snorkeling, diving, kayaking, or fly fishing , if you find the time.
Address and link:
Unfortunately, the Tranquility Lodge is listed as "Permanently Closed".
If new owners take over the lodge we will update the information and a link to their website.

---