COVID-19 ALERT: Unfortunately, stock of many items at our distributor is on backorder due to the pandemic and manufacturing issues. Their stock changes from day to day even hour to hour, so it is almost impossible to keep up with it. As a result, you may get a notification that your order is on backorder for a short time. We are very sorry for the inconvenience and thank you for your patience.
Stay safe and thank you for your patience and choosing
The Hummingbird Guide.
Window Hummingbird Decal
WINDA5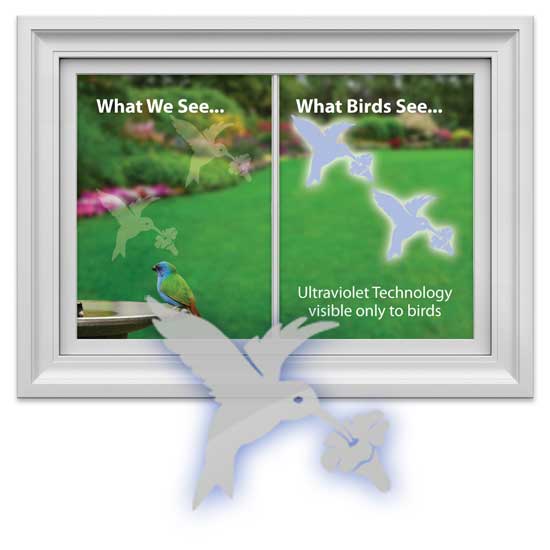 Window Hummingbird Decal.
Millions of wild birds are killed each year flying into windows.
Now you can help reduce this loss of life.

WindowAlert is a static-cling decal that may be applied to home and office windows.

The decal contains a component which brilliantly reflects ultraviolet sunlight.

This ultraviolet light is invisible to humans, but glows like a stoplight for birds.

Birds have vision that is up to 12 times better than that of humans.

WindowAlert decals help birds see windows and thus avoid striking the glass.

4 per package
---
Price: $7.99
See Customer Reviews
Fast Shipping!

Most orders leave our warehouse within 1 to 2 business days!

---
Customer Reviews:
---
By Marianne on June 1, 2016:

I recently purchased the window hummingbird decals. They look great on the windows and do prevent birds from flying in the window killing themselves. Thank you!

---
---
Window Hummingbird Decal
---