FTC Disclosure:  If you make a purchase via a link on this site, We may receive a small commission on the transaction - at no added cost to you. Thank you!
Window Maple Leaf Decal
WINDA1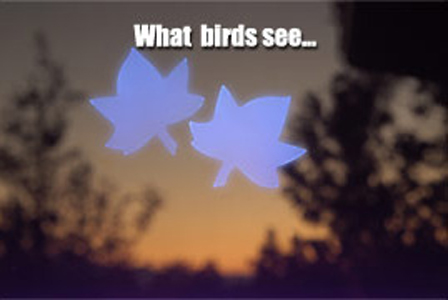 Window Maple Leaf Decal.
Millions of wild birds are killed each year flying into windows.
Now you can help reduce this loss of life.

WindowAlert is a static-cling decal that may be applied to home and office windows.

The decal contains a component which brilliantly reflects ultraviolet sunlight.

This ultraviolet light is invisible to humans, but glows like a stoplight for birds.

Birds have vision that is up to 12 times better than that of humans.

WindowAlert decals help birds see windows and thus avoid striking the glass.

4 per package
---
Price: $7.99
Fast Shipping!

Most orders leave our warehouse within 1 to 2 business days!

---