Dr. JBs 32oz. Feeder With Yellow Flowers
FTC Disclosure:  If you make a purchase via a link on this site, We may receive a small commission on the transaction - at no added cost to you. Thank you!
Dr JBs 32 oz
Hummingbird Feeder 
with Yellow Flowers
SE6029


The Dr JBs 32oz hummingbird feeder with yellow flowers, a new larger size!
Have you ever wished your Hummingbird Feeder could expand as more Hummers visited in August-October? Now it can! Introducing Switchable Seasonal Sizing! This system allows you to cater to your Hummer population by offering several sizes of replacement bottles, all that fit perfect on your Dr. JB's Clean Feeder making the best Hummingbird feeder on the market even better!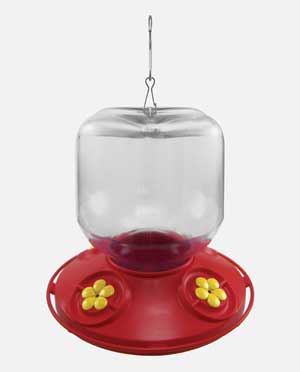 Dr JBs 32 oz Hummingbird Feeder with Yellow Flowers  Features:
Said to be the BEST Hummingbird Feeder EVER!!
Introducing the new solution for cleaner feeders.
Base is Dishwasher safe in the top rack of the dishwasher.
Unique 2 piece base.
Innovative flow-control design.
High-quality removable parts.
Bee resistant inner base.
Wide mouth plastic jar for easy cleaning and no mess when adding sugar and water.
No drip design even in high winds!
Replacement bases available here in 4 ports & 8 ports.

Replacement bottles available here in 16 oz., 32 oz., 
48 oz. & 80 oz.
Replacement petals available here in yellow, red, purple, teal & multi-pack.
32-ounce capacity.
NOTE:The jar is plastic, not glass as in the SE6002.

See my personal Dr JB's hummingbird feeder review!
Reg. Price: $29.99
Sale Price: $27.99
Fast Shipping!

Most orders leave our warehouse within 1 to 2 business days!

Customer Reviews:
By Christine V. on May 12, 2023:
I purchased 
Two- Dr. JB's Original 16 oz. Glass Bottles and
Two- Dr. JB's 4-Port Base with Yellow Flowers
The pieces were easy to use (to take apart for cleaning and put back together). I liked the materials, and that I have the ability to replace parts if needed. (Note: The reason I chose these products is because I have several other hummingbird feeders, all from different manufacturers and made with different materials. Those products have not stood the test of time. The metal ones had paint chipping, or started rusting, and all the parts are different, which means it is harder to clean and put all of the different feeders together.)
 With Dr. JB's parts my hope is to have all of my feeders able to fit together. I want products that won't rust, and that won't have paint chipping. So far I am very pleased with the products and I want to purchase more so that I can replace all of my other feeders from other manufacturers with these ones. (For consistency and ease of cleaning). I will also be purchasing the ant motes and the heaters. I LOVE it that all the parts are intended to work together, and easy to replace if a squirrel knocks one off and breaks the glass. The real test is do the hummers like them? Yes!
CV
---
Mike B. on August 22, 2021:
I like the feeder, might be my best one.
---
By Linda M. on August 9, 2016:

I ordered my Dr JB's hummingbird feeders on a Sunday and they were immediately shipped out on Monday.  Received them quickly and very well packed.  I love my new feeders and more importantly, so do my hummers.  The only thing about these feeders is you have to make sure that the 2 piece bottom part is firmly snapped together or it will drip.  I will definitely order from you again and look forward to my newsletters that I signed up for.
                                     

---
By Tracy M. on June 5, 2016:

The hummers took to it right away,  I only have about 4 this year.  I don't know why.  I usually have about 10 or so.

---
By Deborah R. on June 4, 2016:

I received my Dr JB's Clean Feeder late on a Wednesday...'cooked' the nectar recipe, and placed the unit on my deck...walked back into the house, turned around and sure enough hummingbirds at the feeder. I am very happy with the design of the glass bottle (no more funnel!).

---
By Susan B. on May 30, 2016:

I love my new feeder and nesting material.  We had such an extended cold spring that we didn't see our visitors until 5/15 which is more than a month later than usual.  So I put the nesting material out (we've never tried it before) and none of the birds were interested.  (Too late) So we are saving it for next year.
While the hummingbirds are at our old style wasp waist glass typical feeder.  They haven't discovered the new one we call the UFO, yet. 
 
So I could say the purchases were a bust.... but I am not unhappy, since they came quickly, arrived intact, and are just as depicted.  Good job.
 
Every hopeful watcher,
Susan


---
By Cathy B. on May 26, 2016:

Thanks for checking in!  I love my new hummingbird feeder!  All the wonderful things you advertised about it are true!  No dripping and the birds are flocking.  It is a wonderful design.  So easy to clean, put together, fill.  Worth every penny.  Thanks for selling such a quality product.  And feel free to post this anywhere on your website because I want everyone to know how happy I am with your feeder!!

---
By Don M. on May 10, 2015:

Received my order in great condition. I put out the feeder right away. I don't think I  have any visitors yet. I have a hummer in past years but not arriving to later. I look forward to many years of use from the feeder.
---
By Mary M. on October 27, 2015:

I love the quality of the feeder I purchased, along with how easy it is to clean. I'm not sure my group of hummers like it. Since I switched out my leaky feeder the hummers don't frequent it like they used to. My mixture is the same (mine was the same as the recipe you sent) so I'm not sure whats up. They may just have to get used to it or maybe they miss the yellow flowers around the feeding openings. But very happy with the product.

---
By John P. on August 29, 2015:

I really like the hummingbird feeder.  It did not take long for the hummingbirds to get used to the new feeder and it seems to keep the bees away, which is the primary reason I purchased it.  We had a lot of rain last night and I noticed bees around the feeder this morning.
It's possible that the rain increased the level of fluid inside the feeder, allowing the bees access to the syrup, although I really don't know if they were attracted to the water on the outside of the feeder or the syrup inside the feeder.  I was also pleasantly surprised wjem I received the feeder within a day or two of my online order, so that was an added bonus. I plan to order another feeder next year.

---
By David D. on August 18, 2015:

Feeder Arrived. Put up the next day and it took the hummingbirds a day to get used to it. Now they are able to feed without fighting the bees. The cheap, leaky one I got from Lowes looked a lot nicer with flowers painted on the bottle but the birds seem to like this one better.
Very nice and well thought out and engineered feeder.
---
---