Dr JBs 32 oz
Hummingbird Feeder 
with Yellow Flowers
SE6029


The Dr JBs 32oz hummingbird feeder with yellow flowers, a new larger size!
Have you ever wished your Hummingbird Feeder could expand as more Hummers visited in August-October? Now it can! Introducing Switchable Seasonal Sizing! This system allows you to cater to your Hummer population by offering several sizes of replacement bottles, all that fit perfect on your Dr. JB's Clean Feeder making the best Hummingbird feeder on the market even better!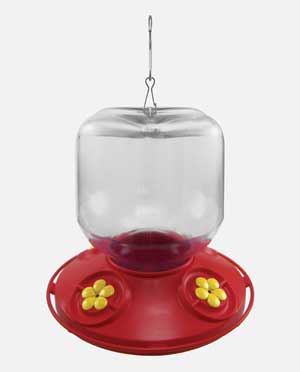 Dr JBs 32 oz Hummingbird Feeder with Yellow Flowers  Features:
Said to be the BEST Hummingbird Feeder EVER!!
Introducing the new solution for cleaner feeders.
Dishwasher safe (place all parts of the feeder in the top rack of the dishwasher).
Unique 2 piece base.
Innovative flow-control design.
High-quality removable parts.
Bee resistant inner base.
Wide mouth jar for easy cleaning and no mess when adding sugar and water.
No drip design even in highwinds!
Replacement petals available in yellow and red.
32-ounce capacity.
See my personal Dr JB's hummingbird feeder review!
Reg. Price: $29.99
Sale Price: $27.99
Fast Shipping!

Most orders leave our warehouse within 1 to 2 business days!

---
Hummingbird Guide

›
Basic Feeders
› Dr JBs 32 oz Hummingbird Feeder with Yellow Flowers