Blooming Sunflower Birdbath
SE5034
SE5035
SE5036
SE5037

This glass blooming sunflower birdbath features a beautiful and vibrant colored butterfly sitting on a sunflower.
Available with a stand, stake, or hanging chain!

---
20 Inch Birdbath (No Stand)
SE5034
Features:
Large 20 inches in diameter without stand.


Songbird friendly with textured bottoms and correct depths.

Glass design makes birdbaths weather friendly.

Attractive enough to display indoors, embossed with gorgeous and vibrant colors.
Price: $39.99

---
20 Inch Birdbath with Stand
SE5035


Birdbath is 20 Inches in Diameter




Sturdy Powder Coated & Rust Resistant Stand

Stand Folds for Easy Storage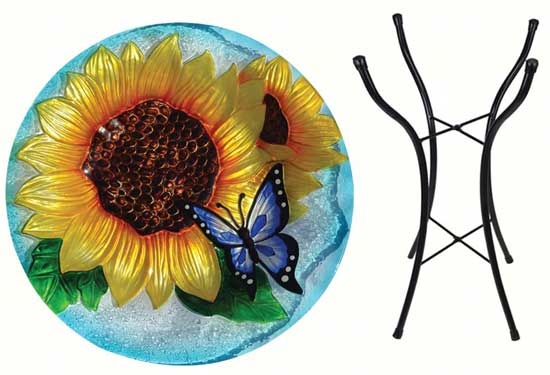 Price: $54.99

---
 12 Inch Birdbath with Stake
SE5036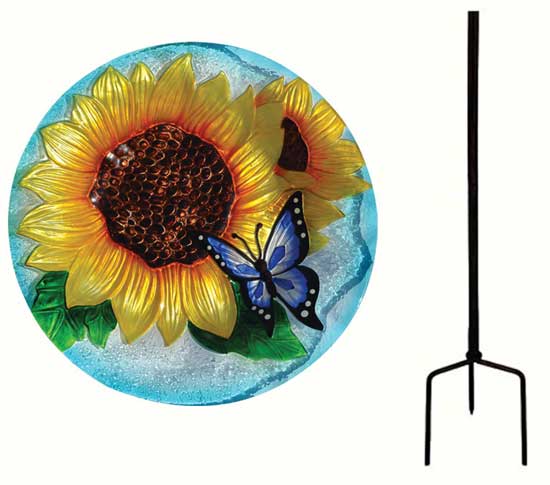 Price: $29.99

---
12 Inch Birdbath With Hanging Chain
SE5037


Birdbath is 12 Inches in Diameter

Comes with a Hanging Chain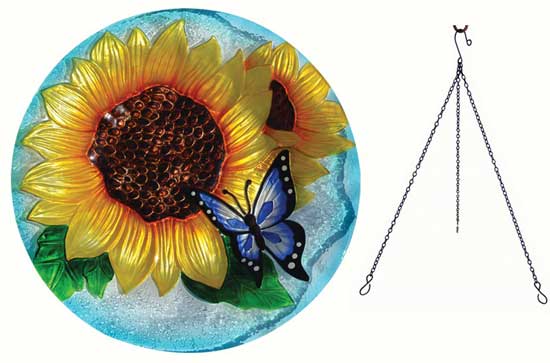 Price: $34.99

---
Fast Shipping!

Most orders leave our warehouse within 1 to 2 business days!

---



Home

›

Birdbaths

› Floating Solar Birdbath Bubbler


---