FTC Disclosure:  If you make a purchase via a link on this site, We may receive a small commission on the transaction - at no added cost to you. Thank you!
Bluebird Birdbath
SE5009
SE5010
SE5011
SE5012

This glass bluebird birdbath features a beautiful and vibrant colored bluebird sitting on a tree branch.
Available with a stand, stake, or hanging chain!

Please Note:
Due to the size/weight of the birdbaths and birdbath stands we cannot include them in the
Free Shipping Promotion.

---
20 Inch Birdbath (No Stand)
SE5009
Features:
Large 20 inches in diameter without stand.
A beautiful and colorful bluebird


Songbird friendly with textured bottoms and correct depths.

Glass design makes birdbaths weather friendly.

Attractive enough to display indoors, embossed with gorgeous and vibrant colors.
Price: $52.99

---
20 Inch Birdbath with Stand
SE5010


Birdbath is 20 Inches in Diameter




Sturdy Powder Coated & Rust Resistant Stand

Stand Folds for Easy Storage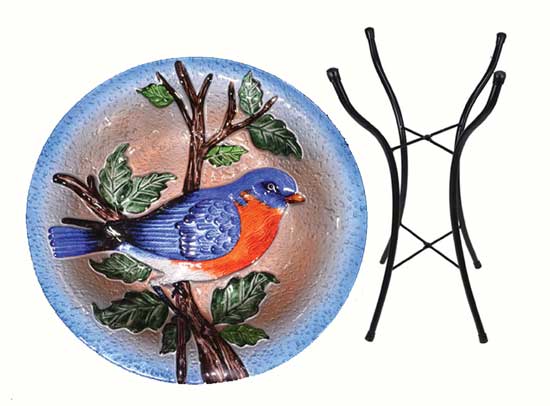 Price: $69.99

---
 12 Inch Birdbath with Stake
SE5011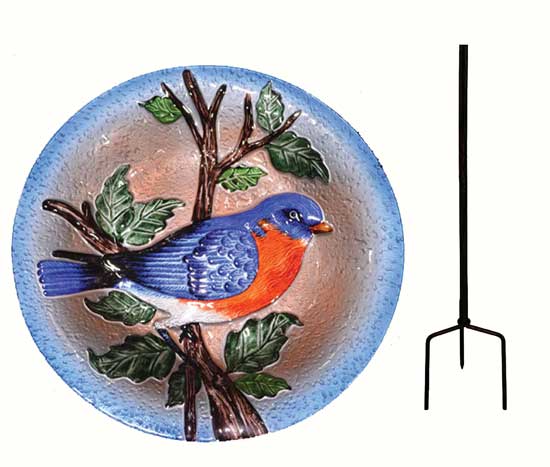 Price: $29.99

---
12 Inch Birdbath With Hanging Chain
SE5012


Birdbath is 12 Inches in Diameter

Comes with a Hanging Chain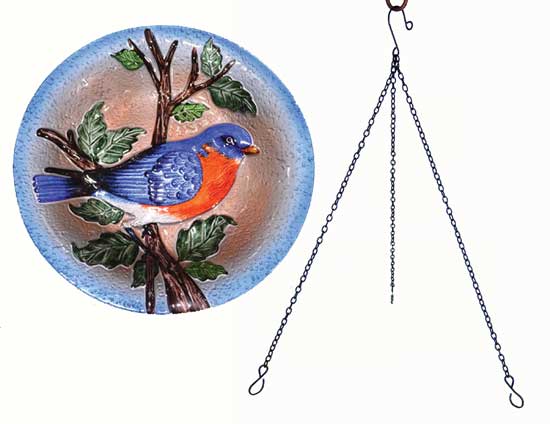 Price: $34.99

---
Fast Shipping!

Most orders leave our warehouse within 1 to 2 business days!

---
Bluebird Birdbath
---