FTC Disclosure:  If you make a purchase via a link on this site, We may receive a small commission on the transaction - at no added cost to you. Thank you!
Hummingbird Identification

How to Identify a Hummingbird
Hummingbird Identification is determined by several characteristics of each species.
The 6 characteristics needed to identify a hummingbird are:
Gorget, the colored patches of feathers on the throat 
Bill length, shape, curve and color 
Tail shape, length, markings and features 
Body size 
Color on the head, belly, back, sides and tail
Range or locations of inhabitancy.
Hummingbird Identification List
---
Common North America Hummingbirds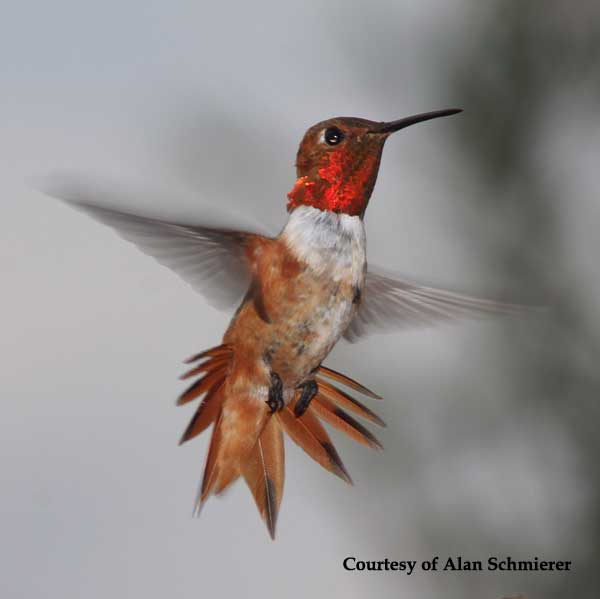 Allen's Male
Allen's Female
---
Anna's:

Throat 
- male-rose red,includes the head and extends down the sides
-female-only a splash of red on throat
Bill 
- long and slender
Tail 
- dark,tipped with white
Range
- California coast-does not migrate
Body 
- male-iridescent green back,greyish underparts
-female-geeen,grey chest and belly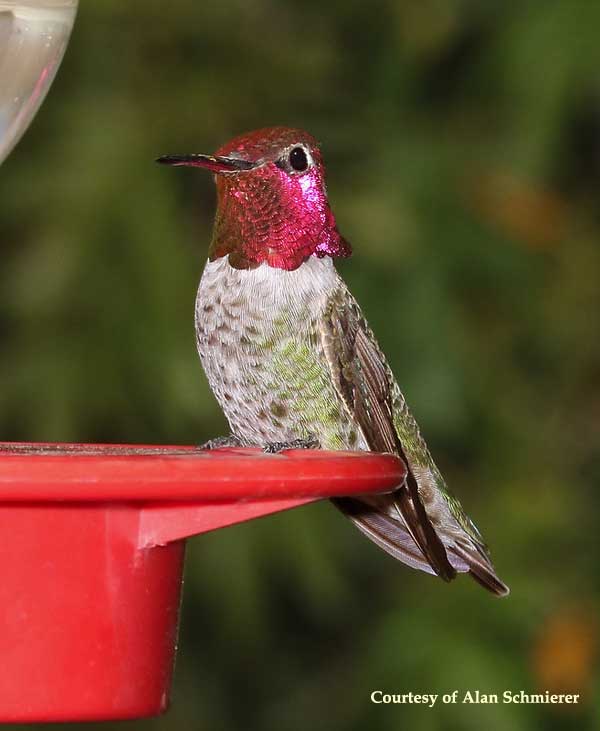 Anna's Male
Anna's Female
---
Bahama Woodstar:
Throat 
- male-glittering purple     
-female-all white
Bill 
- long,slightly curved
Tail 
- blackish purple forked tail
Range 
- the Bahamas except the Great and Little Inagua Islands
Body 
- male-green gold backs, olive buff underparts, white flanks
-female-similar to males lack forked tail
Bahama Woodstar Male
Bahama Woodstar Female
---
Berylline:

Throat
 - male-apple green to turquoise includes head
-female-plain
Bill 
- straight, red below, black above
Tail 
- dark with some purple violet, square to slightly notched
Range 
- Southeastern Arizona, Texas
Body 
- male-irridesent olive green brownish grey cinnamon and white underparts
-female-similar to male but plainer
Berylline Male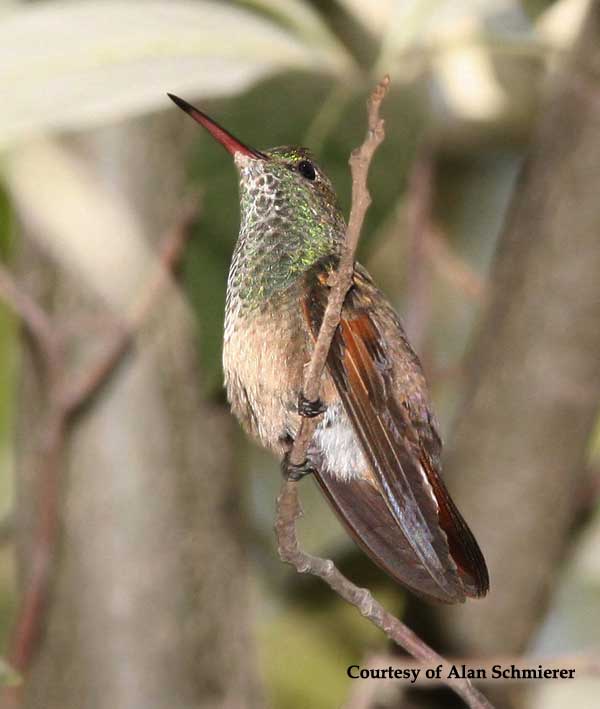 Berylline Female
---
Black-chinned:
Throat
- male-black and purple at base
-female-whitish with brown spots
Bill
- medium length
Tail
- long deeply notched extends beyond wingtips
Range
-West and Southwest, spotted in southeast
Body
- male-green above,pale grey and whitish underparts
-female-dull green, pale grey to whitish underparts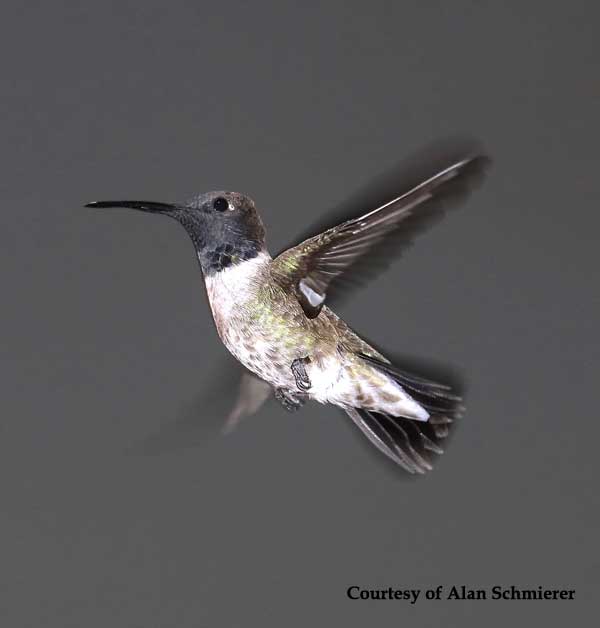 Black-chinned Male
Black-chinned Female
---
Blue-throated:
Throat 
- male-blue
- female-plain grey
Bill 
- long,slightly curved
Tail 
- long,blue/black with broad white tips
Range 
- Southwestern Arizona, Western Texas, Southern New Mexico
Body 
- male-dull green on top, medium grey on belly
- female-similar but lacks the blue throat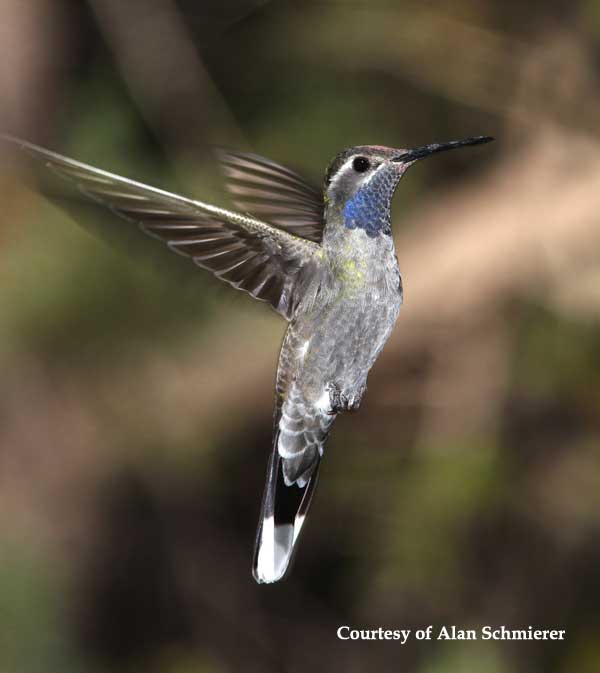 Blue-throated Male
Blue-throated Female
---
Broad-billed:
Throat
- male-dazzling sapphire blue
- female-plain
Bill
- male-long, vivid red
Tail
- long
Range
- Southwestern United States, occasional in Texas and Louisiana
Body
- male-emerald green back, whitish to grey underparts
- female-green back, grey underparts
(Note: sometimes confused with the Buff-bellied both have red beaks)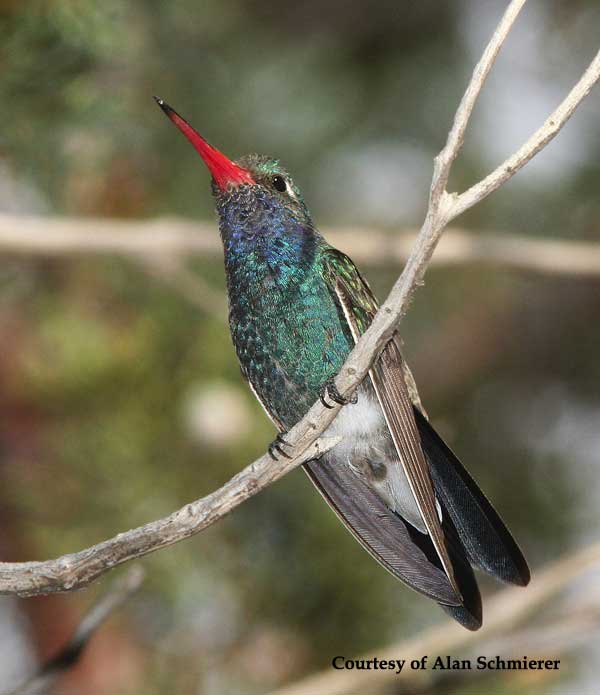 Broad-billed Male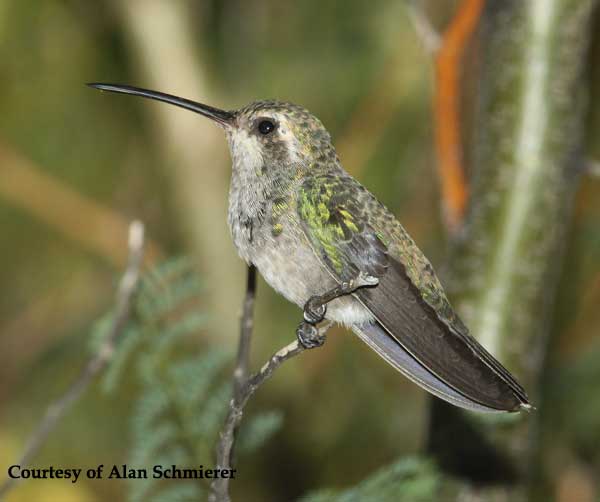 Broad-billed Female
---
Broad-tailed:
Throat
- male-brilliant rose red or hot pink
- female-evenly speckled greenish-bronze
Bill
- long, straight
Tail
- long, broad
Range - Arizona, California, Colorado, Idaho, Montana, Nevada, Utah, Wyoming
Body
- male-green upper, white with grey green underparts
- female-green above - grey below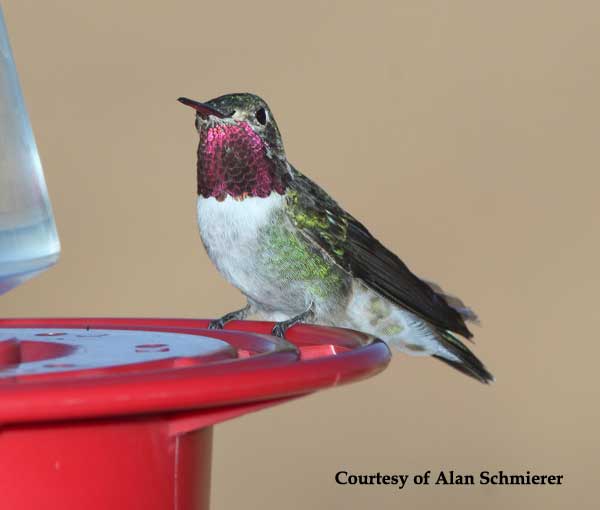 Broad-tailed Male
Broad-tailed Female
---
Buff-bellied:
Throat
- male-iridescent green
- female-muted iridescent green
Bill
- slightly curved, red with black tip
Tail
- rounded
Range
- Gulfcoast of Texas, Winter sightings in Western Florida, Central Texas, Arkansas
Body
- olive green back, cinnamon underparts
(Note: the largest hummingbird in the United States)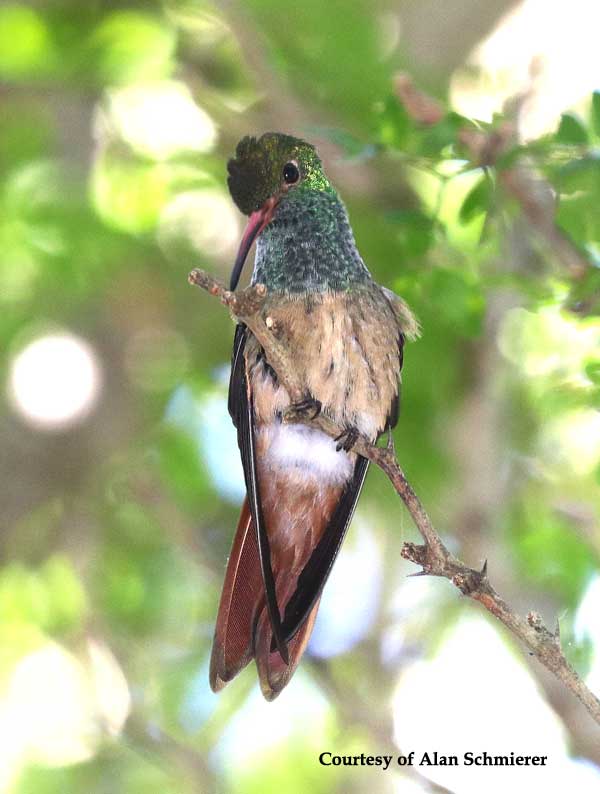 Buff-bellied Male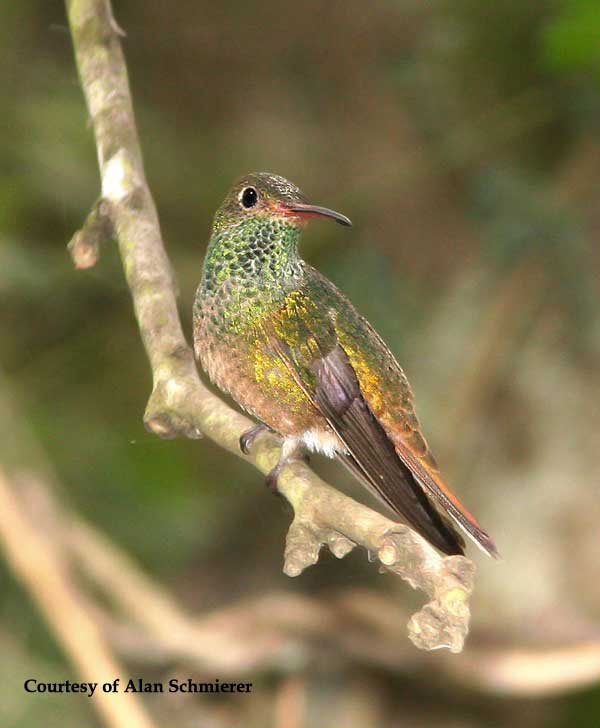 Buff-bellied Female
---
Calliope:
Throat
- male-red streaks over a white background
- female-dusky bronze
Bill
- short, straight,black
Tail
- very short black with white tips
Range
- Pacific Northwest, Interior West
Body
- male-bright green above, creamy white underparts
- female-pinkish flanks,dark streaks near the throat
Calliope Male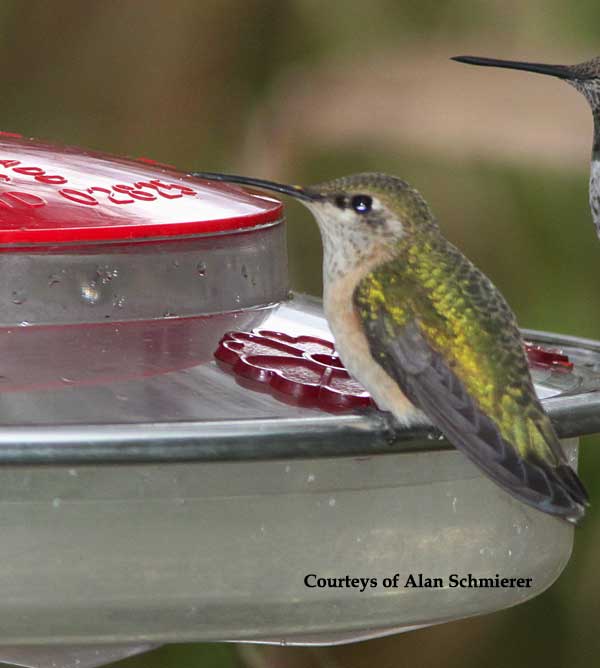 Calliope Female
---
Costa's:
Throat
- male-metallic purple with long extensions
- female-unmarked or has a small patch of metallic violet
Bill
- short,thin,slightly curved
Tail
- rounded
Range
-Southern desserts, Pacific Coastal Areas
Body
- male-green above, pale green underparts
- female-green to golden green underparts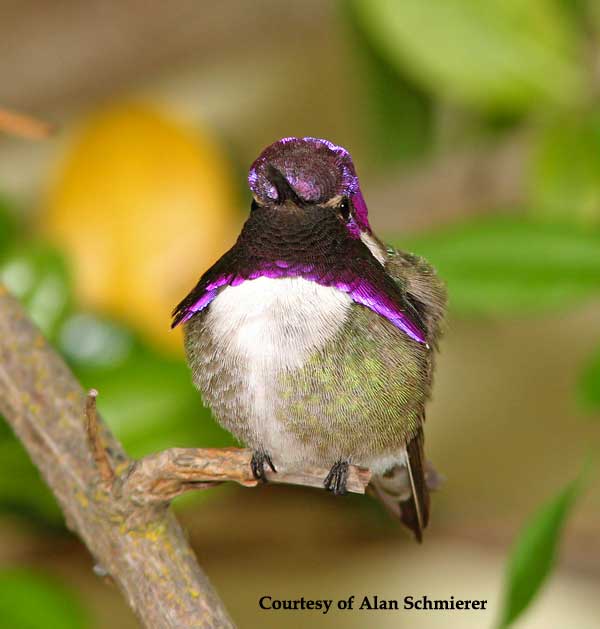 Costa's Male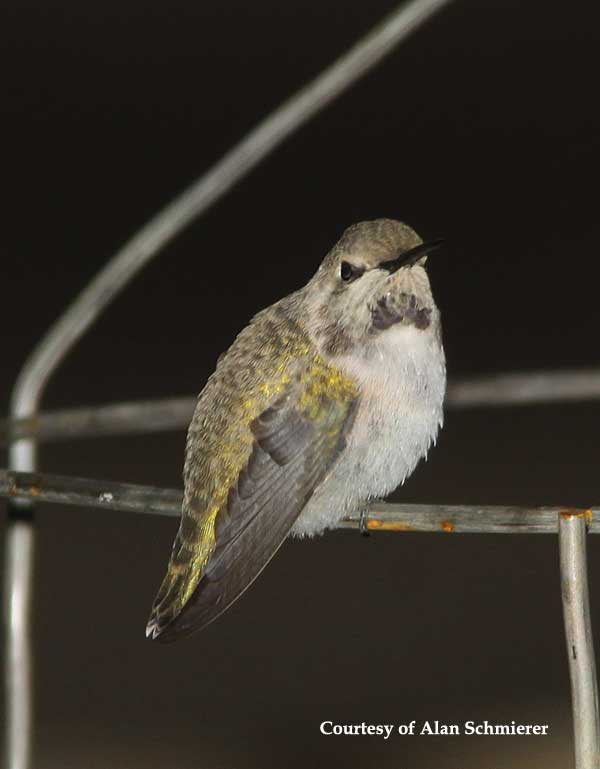 Costa's Female
---
Cuban Emerald:
(natives call this hummingbird Zun-zun)
Throat
- male 
- female-grey
Bill
- short with a black upper beak and a red lower beak with a black tip
Tail
- deeply fork
Range
- Grand Bahama, Great Abaco and Andos Islands, some in rest of Bahamas, vagrants in Florida
Body
- male- almost completely metallic or iridescent green, whitish spot behind eye
- female-green above,grey breast and underparts, whitish spot behind eye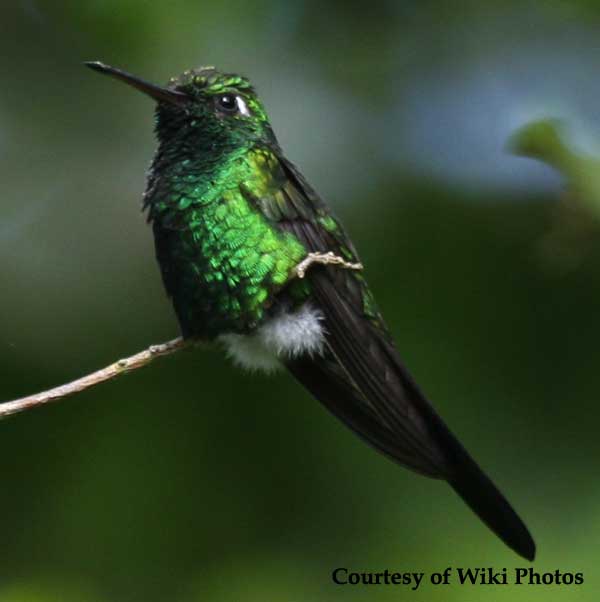 Cuban Emerald Male
Cuban Emerald Female
---
Lucifer:
Throat
- male-purple
- female-white with cinnamon 
Bill
- long, curved
Tail
- long deeply forked with narrow outer feathers
Range
- Rare but increasing sightings in the Southwest 
Body
- male-green above, white underparts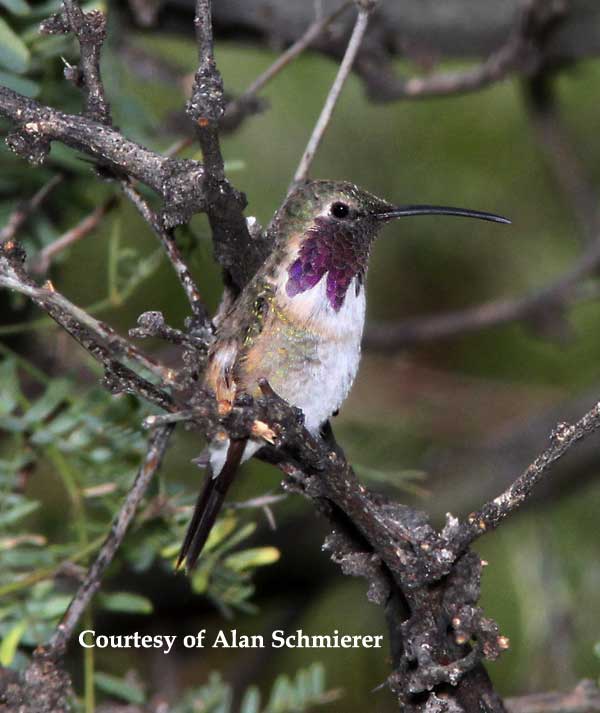 Lucifer Male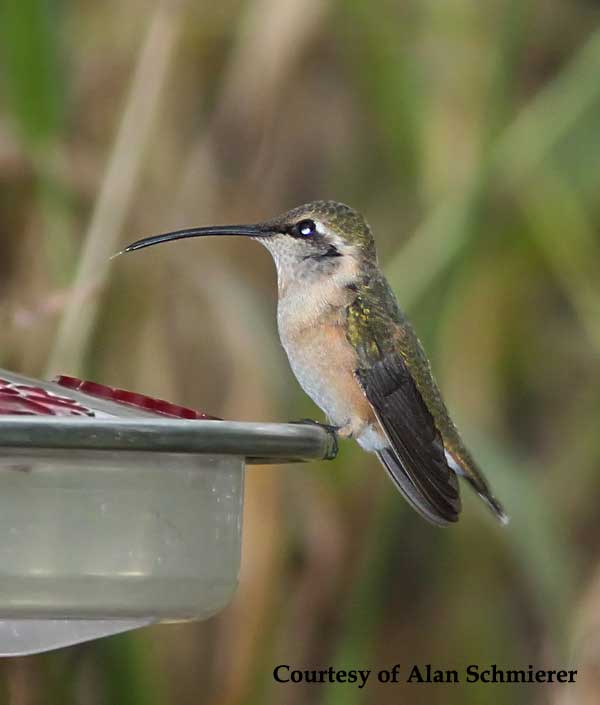 Lucifer Female
---
Gorget/Throat
 - male - ruby red
 - female - plain
Bill 
 - long, slightly curved, black
Tail 
- deeply notched
Range 
- only breeds east of the Mississippi
Body
- male - iridescent green back white breast around sides of neck, red gorget
- female - iridescent                   green back grey green             sides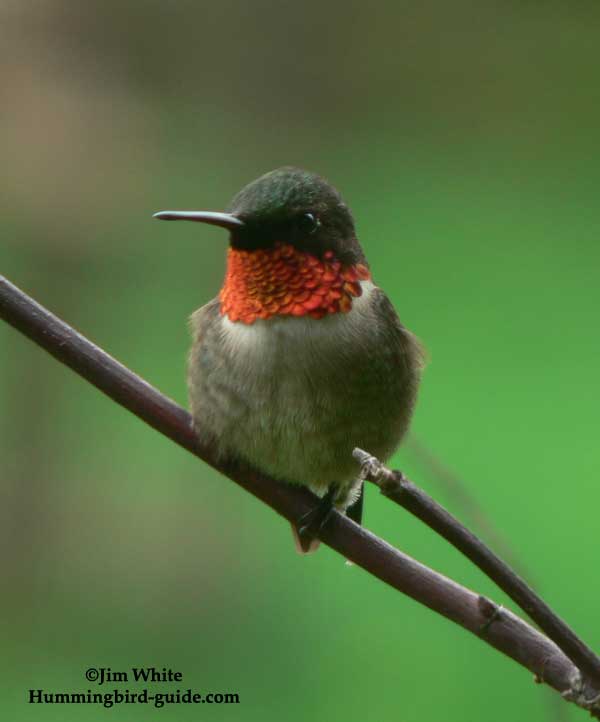 Ruby-throated Male
Ruby-throated Female
---
Rufous:
Throat
-male-billiant scarlet to orange
-female-whithish,marked with green to bronze
Bill
- medium short black
Tail
- rounded
Range
- Northwest, farther north than any hummingbird includes Alaska, Eastern vagrant in winter
Body
- male-upper rufous, green underparts, white rufous vest - female bright green back, white underparts with rufous
(Note: The adult female is almost the same as an immature Allen's but has a broader tail with a notched tip)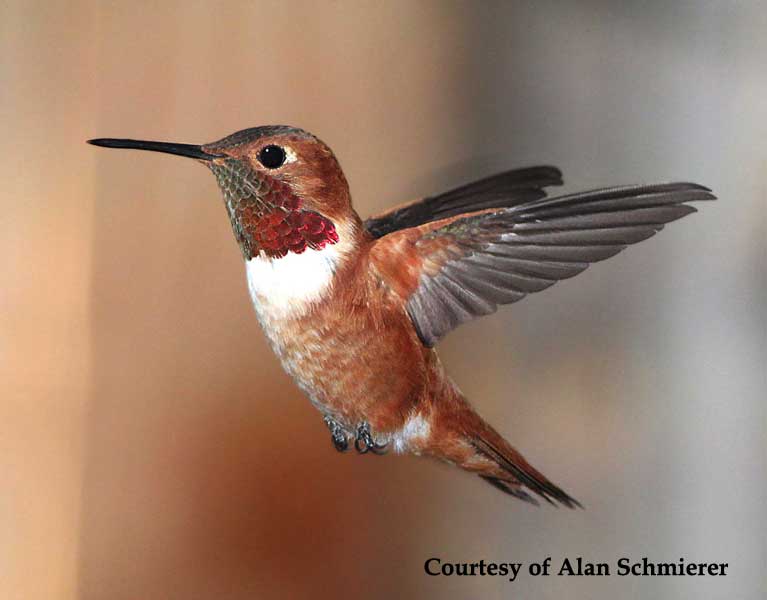 Rufous Male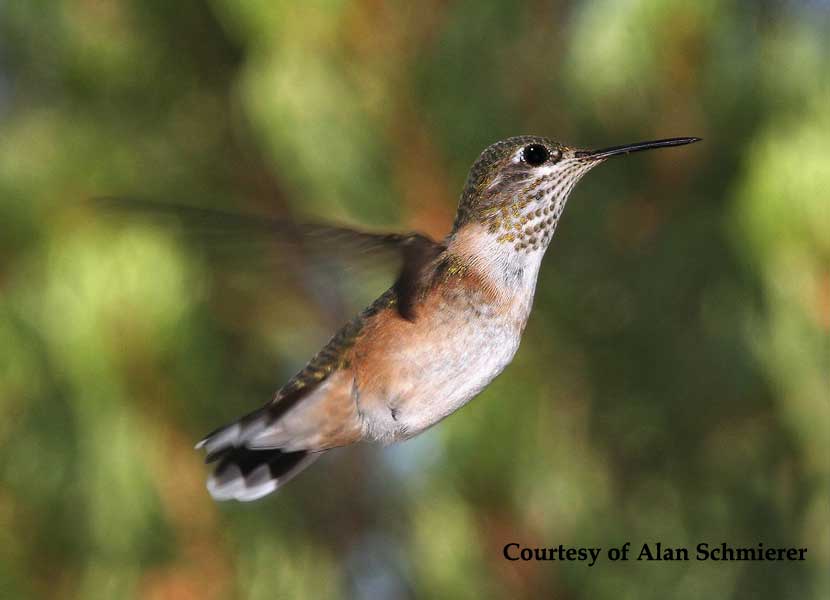 Rufous Female
---
White-eared:
Throat
- male-extended solid turquoise green
- female-streaked or spotted
Bill
- coral red with black tip
Tail
- long square slightly forked
Range
- Southeaster Arizona, Southwestern New Mexico, Western Texas
Body
- male-white ear stripe arches over eye, upperparts   turquise, underparts green with a white belly stripe
White-eared Male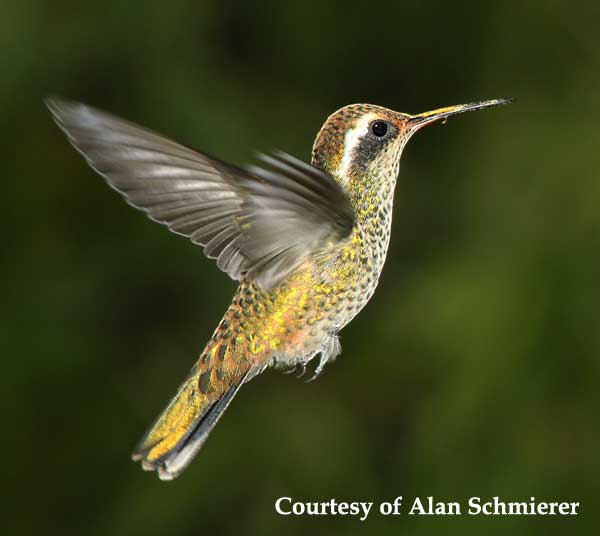 White-eared Female
---
  Xantus:
Throat
- male-green with green spangles
- female-plain
Bill
- long, red with black tip
Tail
- long, bright rusty
Range
- limited to Baja California
Body
- male-upper parts bright green to bronze, with black mask, white ear stripe, underparts rufous
- female-has black mask, white ear stripe, underparts pale cinnamon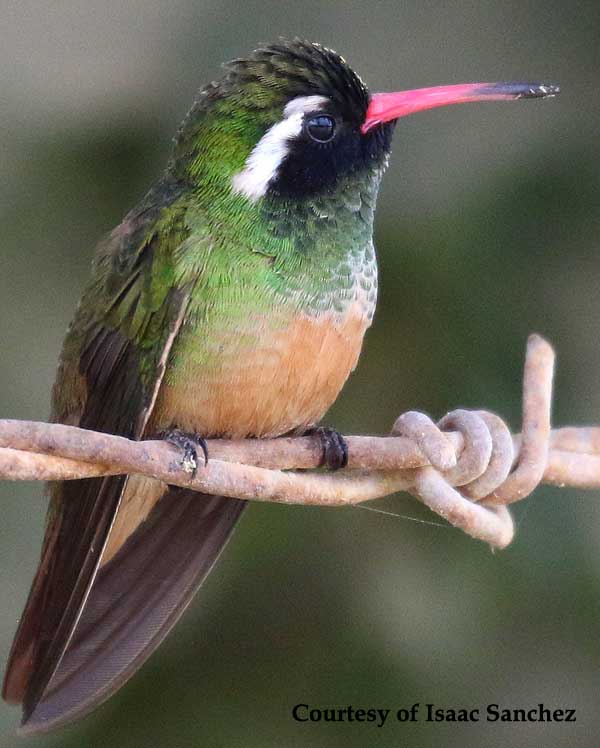 Xantus
---
Rare North America Sightings:
Antillean Crested:
Head
- distinctive crested with a metallic tip
Bill
- short
Tail
- short
Range
- vagrant-one sighting in Texas-specimen in American Museum of Natural history
Body
- male-mostly dark
Antillean Crested Male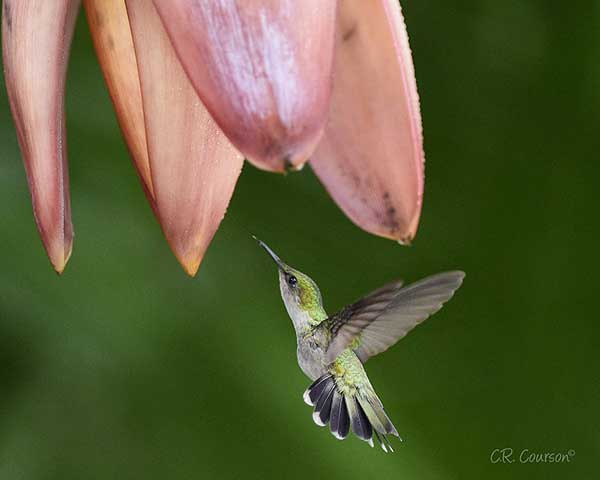 Antillean Crested Female
---
Cinnamon:
Throat
- male-cinnamon
- female-plain
Tail
- square,rufous,green gold tipped
Bill
- long
Range
- vagrant in Southwestern United States
Body
- bronze green back, cinnamon underparts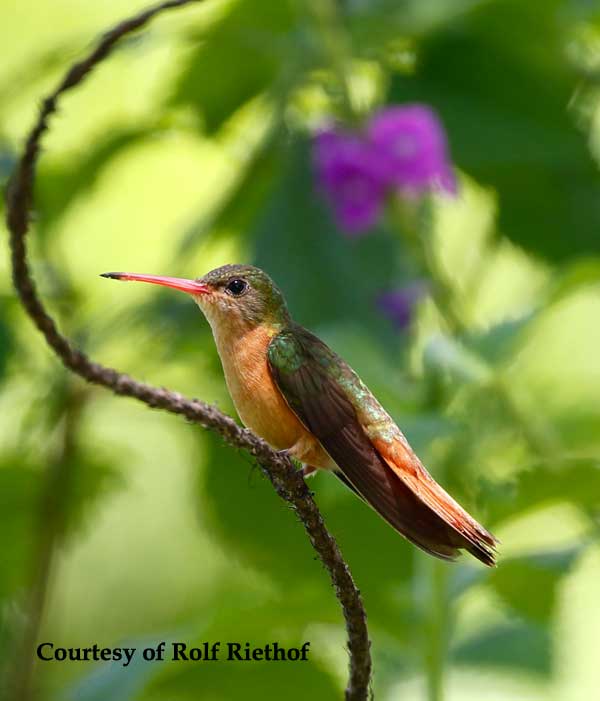 Cinnamon Hummingbird
---
Green-breasted Mango:
Throat
- male-dark emerald green with broad strips
- female-white with black stripe
Bill
- long, curved
Tail
- square to slightly notched
Range
- Texas vagrant
Body
- male-metallic green with a patch of blue violet on the ear
- female-bronze-green upperparts,white underparts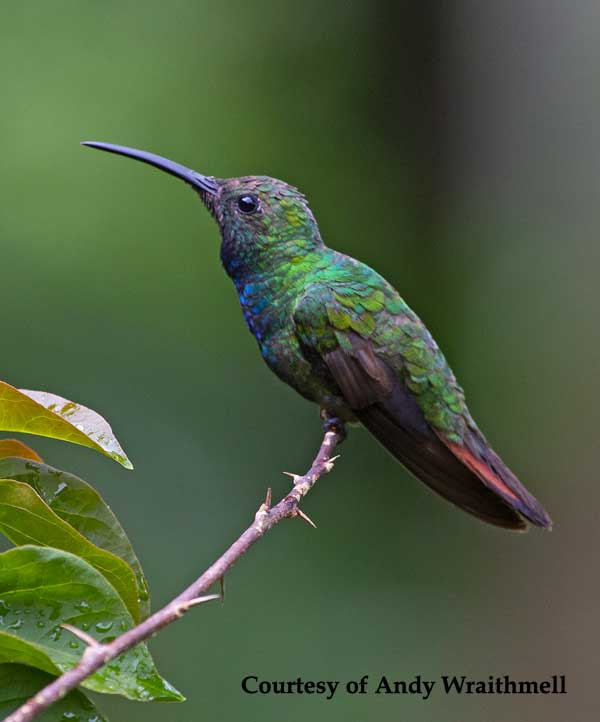 Green Breasted Mango
---
Green Violet-ear:
Throat
- male-bright green,blue purple ear patch
- female-duller gorget,has blue purple ear patch
Bill
-long,straight,red with black tip
Tail
-forked
Range
-rare sightings in Southwestern Arizona,    Southwestern New Mexico, Western Texas
Body
-male-white eye stripe arches over eye, upperparts  turquoise, underparts green with a white belly stripe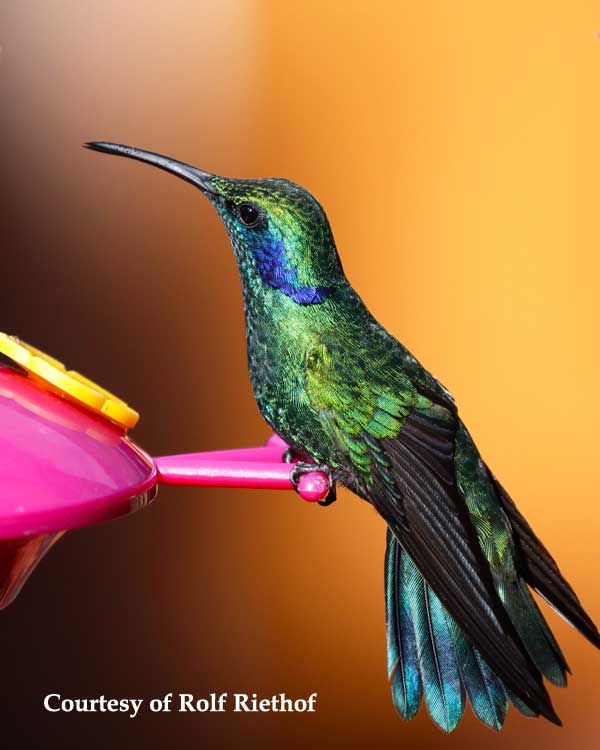 Green Violet-ear
---
Magnificient:
Throat
- male-apple green to turquoise green
- female-plain
Bill
- long
Tail
- long, straight
Range
- rare sightings in Southwest
Body
- green above, grey underparts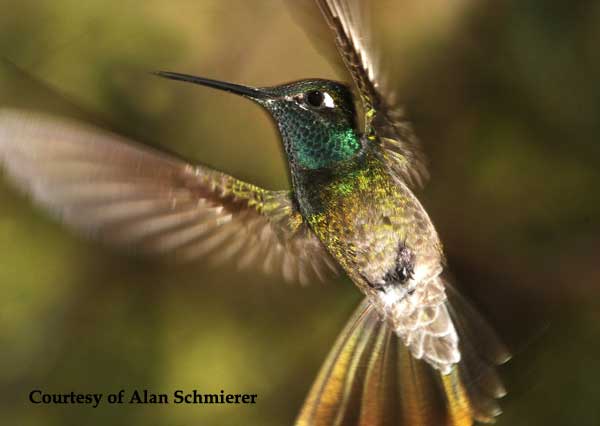 Magnificent Male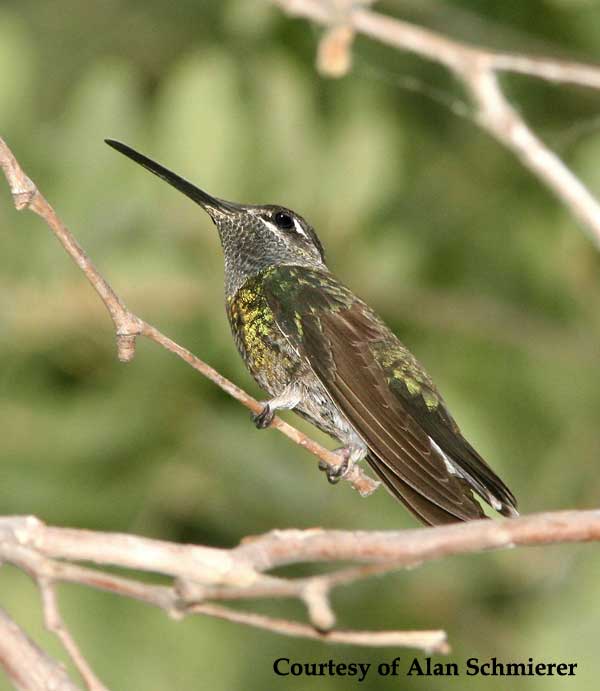 Magnificent Female
---
Plain-capped Starthroat:
Throat
- male-metallic-violet red
- female-band of on lower throat
Bill
- very long straight black
Tail
- slightly notched bronze green
Range
- rare sightings Southeastern Arizona and New Mexico
Body
- male-dull green to olive upperparts, bronze underparts - female-resembles male but slightly less colorful
---