FTC Disclosure:  If you make a purchase via a link on this site, We may receive a small commission on the transaction - at no added cost to you. Thank you!
Wingscapes Audubon BirdCam Review & The BirdCam 2.0

Why we did this Wingscapes Audubon BirdCam Review.
You can get closer......Watch the minute by minute secret lives of birds.
You can see what you've missed....... The Wingscapes Birdcam captures digital photos and videos of your birds while you are away.
We love this! It is so easy to share your birds through email, printing, video-sharing, and the web.
You can be a citizen scientist. Already in use by scientists, this revolutionary tool enhances how we observe, enjoy, and learn about wildlife. The webcam is perfect for school projects and anyone who enjoys birdwatching.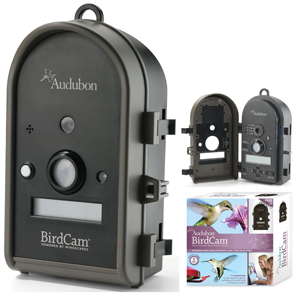 Replaced with the Wingscapes BirdCam Pro

Why we recommend the Wingscape BirdCam.
It is so easy to set-up and use. There are no wires and a user's guide is included and even I could set it up easily.
The Birdcam can be used in minutes after unpacking it. Patience isn't my strongpoint. Who likes to wait?
An infrared sensor detects birds and takes either digital photographs or 10 second video clips while you are away. I would love to sit and watch my birds all day but I need to partake in the joy of working instead. Ha!
Images can be viewed on a TV or downloaded to your computer for printing or email.
The Birdcam also works in Timelapse and Manual modes.
We love the remote control, which can trigger the BirdCam from 30 feet away.

SEE WHAT YOU'RE MISSING WITH THE
WINGSCAPE BIRDCAM!
Another choice is the Wingscapes BirdCam 2.0 Edition.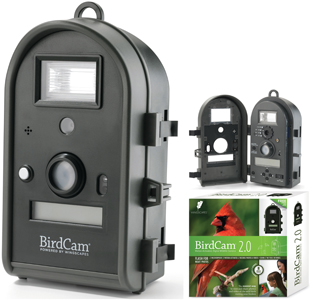 Replaced with the Wingscapes BirdCam Pro
Features:
BirdCam 2.0 has increased resolution over the Audubon edition.


Also works has a Timelapse feature, and a flash for nighttime photos!

Weatherproof, motion-activated, and easy-to-use, this digital BirdCam captures photos and videos of your birds while you are away.

Records to SD card or internal memory.

No tools, wiring, or software required.

Many mounting options.

Smart Sensor technology ignores feeder movement and minimizes empty shots!
---
Ruth and I own the BirdCam 2.0 and have been enjoying many great photos from it.
Here a few photos from our BirdCam:

This is an example of an early morning shot.
One that I particularly like the way the hummer is caught on film in the process of landing on the feeder.

Here is an evening shot as you can see by the date and time inscribed in the photo.

A photo of the Ruby Schrodt Etched Glass Hummingbird Feeder.
A female Ruby-throated hummingbird approaching the Violet Meadow hummingbird feeder in our flower garden.
A male ruby-throated hummingbird at the same feeder.
Another evening photo from the BirdCam of a female approaching the feeder.
I hope my Wingscapes Audubon BirdCam Review and the BirdCam 2.0 features help with more information if you are considering a birding camera purchase.

---