FTC Disclosure:  If you make a purchase via a link on this site, We may receive a small commission on the transaction - at no added cost to you. Thank you!
Kids Hummingbird Poetry Contest

And the Winners Are!
The Majestic Hummingbird
by Grace Neuger Age 12
The Iridescent Angel
By Elise age 12
Pretty Hummingbird
by Jenny Darling age 7
Congratulations to the winners, we would like to thank all of you who submitted a poem.
We would also like to thank all the parents, teachers, friends and relatives for their support and encouragement.

Tip: You can visit some other pages on our site and learn more about hummingbirds to help write your poem.

Each of the Top 3 Favorites will win the prize!

The Winning Prize!"Everything you need (except your recycled bottle) to make your own "Recycler" Hummingbird Feeder".

Turn a recycled soda bottle into a hummingbird feeder.
 The Hummingbird Recycler Feeder Kit includes:The Base Separate feeding flower perches that snap into each of three holes on top of the base A Net to secure the soda bottle A three prong hanger that attaches to the net for secure handling A funnel for easy filling.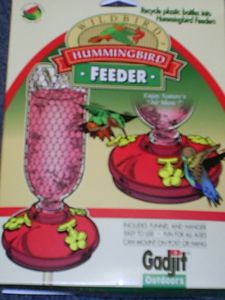 Here are the contest rules:
Submit original work written by you.
Contest open to ages 6 to 12.Fill out the "Your Name" box and be sure to include your age.
Winners will be selected based on visitor comments and our judge.Submissions deadline is September 30, 2014.
Winners announced October 31, 2014

Here is your chance to show off your work and invite all your friends and relatives to leave praises with their comments.

You will see a "Thank You" page after your submission, please leave your email address here so we can send a notification if you are the Winner.

Your Hummingbird Poem
Submit Your Hummingbird Poem Below.

Please leave your name & age with the "Author" information. For example: John age 7
Read Other Contributed Hummingbird Poems
"Click on the links below to see some great hummingbird poems. They were all written by other kids to this page."

---